2017 FAIR - El Dorado County Fair is June 15 thru June 18
[PRpond]
There are all kinds of Ribbons & Rides at the fair-and as this year's fair theme, El Dorado County Fair has all bases covered. From the coveted Blue Ribbon to ribbons in a little girl's hair-fairgoers will delight in the fun of RIBBONS at El Dorado County Fair. Most of the contests in the Fair Entry Guide include a division where you can use the fair theme in your project.... try your hand at making a ribbon pillow! And the RIDES, El Dorado County Fair has plenty! For the second year, Paul Maurer Shows will be bringing their beautiful carnival rides. With updated LED lighting and bright colors, there will be no shortage of fun June 15 thru Father's Day, June 18. 
2017 El Dorado County Fair theme: Ribbons & Rides. 
2017 Prices and Information
Per Person    Presale     During Fair 
General          $ 9.00       $10.00
Junior             $ 6.00       $ 8.00
Seniors          $ 6.00       $ 8.00
Parking: $6.00 per car
Attendees in military get in FREE (must show active duty military ID)
 
Spazmatics & Legends of El Dorado return plus new and exciting performers as well!
Tyzen Master Hypnotist, that's right, we have a new hypnotist this year! Come check him out, every day of fair.
See online schedule for details.
Spazmatics are back by popular demand, playing Fridaynight on the Budweiser Stage.
Free activities for your kiddos at Fair!
Returning for a second year, Jeremy the Juggler - a crowd pleaser for sure, roams the fairgrounds daily! Free bi-lingual interactive entertainment and fun for the whole family!
Mind Works! fills the plaza again with fun brainteasers that everyone can enjoy! Play giant checkers or put together the puzzle of the USA! Free and so much fun!
1K Fun Walk/Run is Thursday morning. Run with the El Dorado County Office of Education Superintendent Ed Manansala! Free for kids 4-12 years old and all participants will receive a participation ribbon from the Fair and a water bottle donated by El Dorado County Office of Education.
Pre-register today at the Fair Office
100 Placerville Drive, Placerville CA, 95667
Day of Registration at Green Gate 9:30am
Entry Form
Sadie the Balloon Lady roams the Fairgrounds daily.  Known for her innovative, crazy balloon creations and wacky costuming she does attract a crowd!  The moment she wheels into view riding her brightly colored scooter she is a regular "Pied Piper" as guests clamor for balloon art to call their own.
Big Wheels Races sponsored by Gold Country Ace Hardware & Hobbies. Free to participate and so much fun to watch, this annual kids event is a family fair favorite.
Decorated Stroller Parade is a new competition this year! Kids 12 & under get in Free to fair until 4:30pm andadults dressed in costume to match decorated strollers get in free as well! Use your imagination to trick out those strollers! Put your kiddo in costume to complete the look and stroll around the Fair and past the judging table to compete for a blue ribbon!Ribbons awarded in the following categories;
♦ Best Fair Theme
♦ Best Other Theme
♦ Most Creative
♦ Funniest
Entry Form & Flyer
Sign up today, competitions for all ages!
Hometown Track Challenge is your chance to get out onPlacerville Speedway and kick up some dust! Sponsored in part by Placerville Polaris, Hometown Track challenge is an obstacle course with challenge stops. Challenge your neighbor, your buddy, even your wife on Saturday, June 17th. More information on the flyer or call (530) 622-9079.
Entry Form & Flyer
El Dorado Idol Do you have the chops to become the 2017 El Dorado Idol? Preliminaries are on Saturday, June 17th at 4:30pm on the Budweiser Stage. Show off what you've got and enter the singing competition today!
Enter El Dorado Idol
Running of the Short Legs, dog race & costume parade! Who wears short shorts? It could be your dog if he/she's got short legs. Free to enter, free to watch! This contest is a great way to spend the day with your short-legged dog at Fair so sign up today!
Enter Today
PURCHASE TICKETS NOW!
ADMISSION
Pre-sale by June 14
$9  |  13 & over (Regular)
$6  |  7-12 years (Junior)
$6  |  60 & over ( Senior)
SPECIAL DAYS
Thursday, June 15
Senior & Kids Day
•  60 & over free admission until 6:30 pm
•  12 & under free admission until 6:30pm
Gates Open: noon - 11pm
Carnival Open: noon - midnight
Exhibits/Commercial Building Close: 10pm
Friday, June 16
Teen Day
•  Teen = 13-19 years old, free admission until4pm
•  Teens get $5-off coupon for Carnival Rides, must purchase by4pm
Gates Open: noon - 11pm
Carnival Open: noon - midnight
Exhibits/Commercial Building Close: 10pm
Saturday, June 17
Livestock Auction & Hometown Track Challenge
Gates Open: 10am -11pm
Carnival Open: noon - midnight
Exhibits/Commercial Building Close: 10pm
Sunday, Father's Day!June 18
John M. Studebaker International Wheelbarrow Races,4:30pm in the Grandstands.
Want to participate,Sign-Up Now

Father's Day Pre-sale package, on sale now!
(Good June 18 only)
This package is only available for purchase by June 14th.
$40 (M-XL) $43 (XXL)
|$45 (XXXL) - $78+ Value!
♦ One 2017 Dad's Day T-shirt (when worn by "Dad," he/she will get in free on SUNDAY ONLY)
♦ 1 General Admission Ticket (13+ yrs.)
♦ 1 Youth Admission Ticket (12 & under)
♦ 1 Voucher for ONE (1) Unlimited Ride Wristband*
*To be redeemed at carnival ticket box. Voucher can only be used Sunday of Fair, during normal carnival box office operating hours.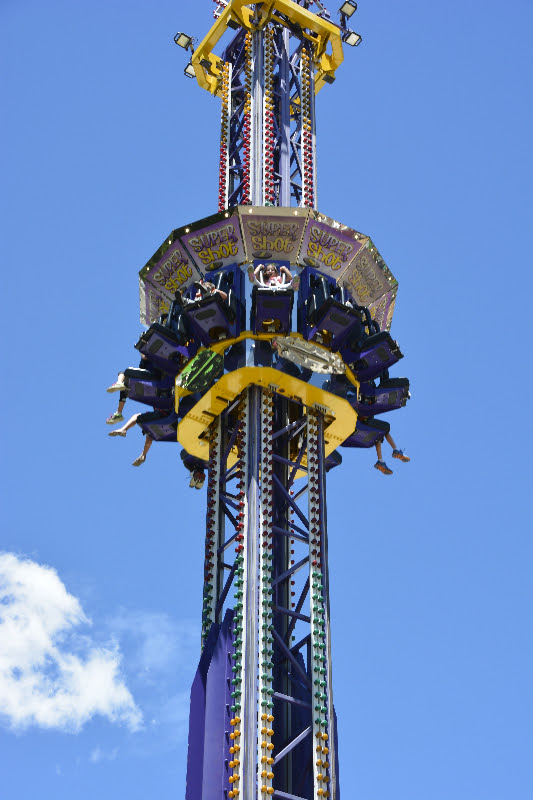 Golden Ticket
4-Day Carnival Ride Wristband $70 (Pre-Sale Only) Good for;
♦ Unlimited rides all four days of fair from noon-close
♦ a souvenir class that may be refilled unlimited times at a carnival concession for $2 per refill.
Ticket is non-transferable. A wristband will be issued and may only be used by ONE person.
Four days of wristband during Fair is regularly $120. That's a savings of $50 plus a bonus of refillable soda deal!
Bookmark/Search this post with
Bookmark/Search this post