El Dorado Hills Woman Bitten by Rattlesnake Thanks Teen Rescuers
[Vicki Gonzalez, KCRA]
An El Dorado Hills woman said two teenage boys who rushed to her side after she was bitten by a rattlesnake are heroes...
"I've been walking the trail for 10 years," Carolyn Vaughan, who was walking along Goat Hill Trail, said. "I stepped right on the snake, and I felt like this spongy something under my foot, which completely shocked me. So I jumped up and reared my leg up, and as I did, the snake was literally still hanging on my leg."
Vaughan used her experience as a nurse to not exacerbate the symptoms.
"I knew I had to stay calm, because I was having a hard time breathing. I knew the more anxious I would get, the harder it would be for me to breathe," she explained. "It started to get a little painful, and then it started to tingle, and literally within 10 minutes I was completely overcome with symptoms. There was tingling throughout my entire body, and my face started to swell. I thought if my face swelled anymore, I was going to split open. And I couldn't even move my mouth to talk."
Luckily two teenage boys running the trail heard her scream. Zach Russell and Ryan Rogers, both high school sophomores, sprang into action to help.
"She was like complaining of tingling. Her throat was closing up, so I was definitely worried," Russell said.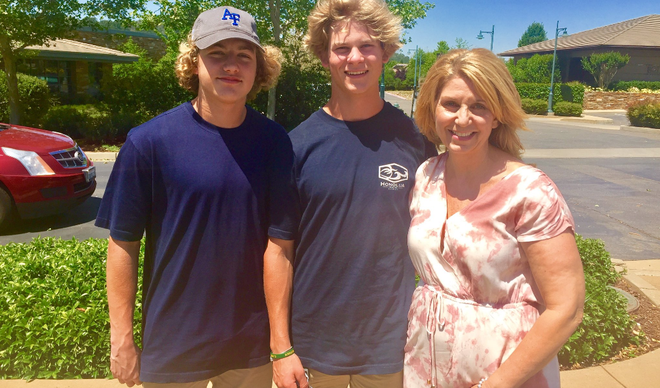 KCRA Vicki Gonzalez
Rogers called 911, while Russell stayed with Vaughan to help.
"I'm just glad we were there," Russell said. "Really happy that we made a difference."
Although rattlesnake bites are rarely deadly, the healing process can be lengthy.
Vaughan was bitten nearly two weeks ago on her ankle. She still has swelling and bruising throughout her leg, including on her abdomen. She also has a tingling sensation throughout her body from the venom.
"I feel like there are like 100 buzzing bees swarming my skin," she said. "I never realized a snake bite could cause all of this and would take this long."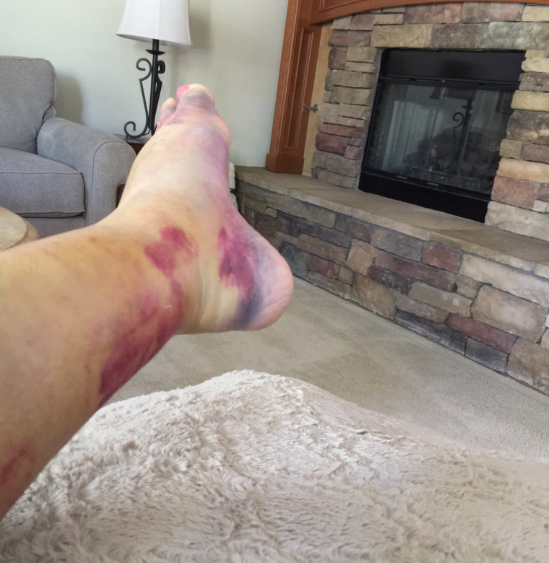 KCRA Vicki Gonzalez
Vaughan expects to return to work in a couple weeks.
"We all know they're there, I think sometimes we just get comfortable," Vaughan explained. "Don't let your guard down."
IF YOU'RE BITTEN BY A RATTLESNAKE
- Don't put ice on the wound or apply a tourniquet. That reduces blood circulation, and in the worst cases can cause amputation.
- Don't try to suck out the venom or cut open the bite. Both open up the risk of infection.
- Stay calm, don't run, and avoid any strenuous exertion.
- Elevate the extremity.
- Remove any rings, watches, or constricting items because swelling will be significant.
- Call 911 and get to an emergency room with antivenin.
- California Poison Control System accepts calls 24/7 on any poison: 800-222-1222.
Pets are also at risk for rattlesnake bites. Green Valley Animal Hospital in El Dorado County has received a good amount of calls so far this year.
RATTLESNAKE TIPS FOR PETS
- Keep dogs on a leash during rattlesnake season, which runs through late fall.
- If bitten, keep your pet calm.
- Call the vet before heading over to make sure they have antivenin in stock.
- Dogs can get a rattlesnake vaccine.
See VIDEO REPORT  
Bookmark/Search this post with
Bookmark/Search this post