"Kyburz's not exactly a metropolis" says cross-nation walker from Sweden
A deputy stopped to talk to  Bjorn Suneson from Sweden who is running from San Francisco to Boston as he works his way across El Dorado County. Deputies met Bjorn as he was making his way up Pony Express Trail in Pollock Pines. 
"EDSO would like to support Bjorn's journey wishing him the best of luck and a safe trip. To assist with that, deputies have put out a safety alert to our allied agencies so we can all follow his progress and assure he has a safe trip through El Dorado County. Perhaps our South Lake Tahoe Deputies can give us an update on his trip over the Sierra's." Said the EDSO Facebook page.
After meeting our local law enforcement Bjorn wrote, "Deputy Mike Elledge from the El Dorado County Sheriff's Dept. liked my continent running. He thought I was 'cool.'"
Bjorn Suneson went on to say, "Do the police in America passed a charm course? Today, I was stopped by a young police officer who wanted to know everything about my running. Not a single reprimand, tvärtom- police thought I was a cool guy."
Kudos to our Sheriff John D'Agostini for setting a culture in EDSO that we can all be proud of our law enforcement officers.  Anyone that has met the Sheriff of El Dorado County personally will understand where this attitude is coming from.
Bjorn's personal adventure blog is at [In English] and continues: 
At noon today outside the community Pollock Pines swinging a police car up next to me when I run on idyllic Pony Express Trail. Out steps a slender but muscular constable and ask the friendly tone if he can take a picture of us together. And certainly he gets it! Mike, who police units, rigs up his iPhone on the trunk and ask me to look into the camera.
Mike bombard me with questions about the rennet. He seems sincerely interested and exclaims: -Cool!
A Sada admiration must obviously be addressed. I, therefore, enough until one of my business cards which on the back says that this is my fifth run of the US and that I am a "world record holder". Admiration escalate further so I take the opportunity to ask if he can not please email me the picture.
When I later when the motel in Kyburz, and turn on the computer, Mike has already sent me two pictures. And not only that, the police have also put the images on Facebook. So now I have at least a local celebrity. Soon, I may well also be an issue if we can not be friends on Facebook. I hope now that the police in the county of El Dorado also read the blog, I do think they will do it, what a cool guy wants one can not miss!
Kyburz's not exactly a metropolis. There is no single house and so the motel. I'm also the only one motel guest.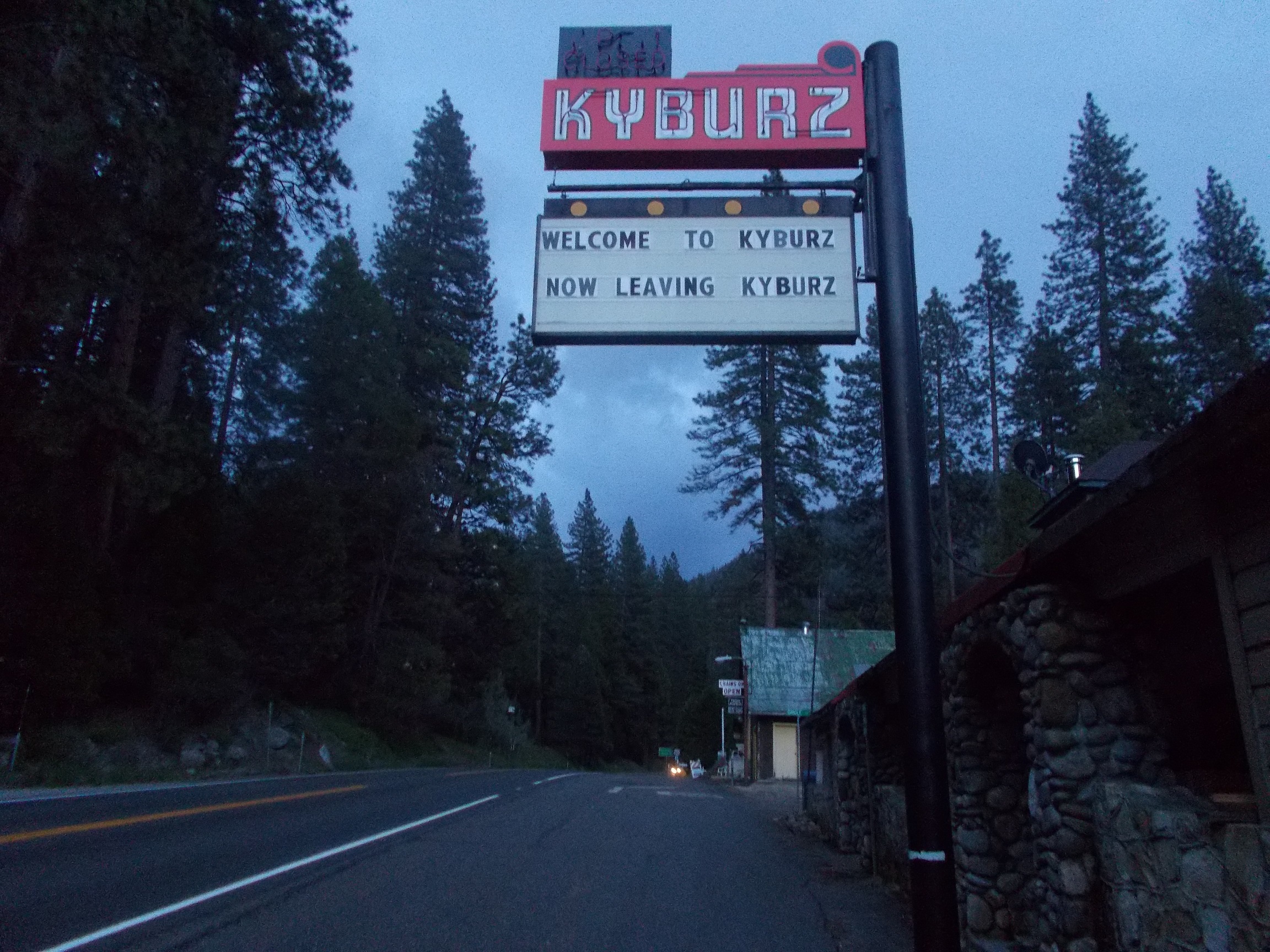 Kyburz in a nutshell.
Today's stage was beautiful and very hilly. I am now up to exactly 4000 feet (1219 meters), but it will rise some additional detail when I was in the morning when the ski resorts up there in Lake Tahoe adjacent to Nevada. My God, once I'm done with California. The races continue to do well but today was very time, the slopes are too steep and the car feels very heavy.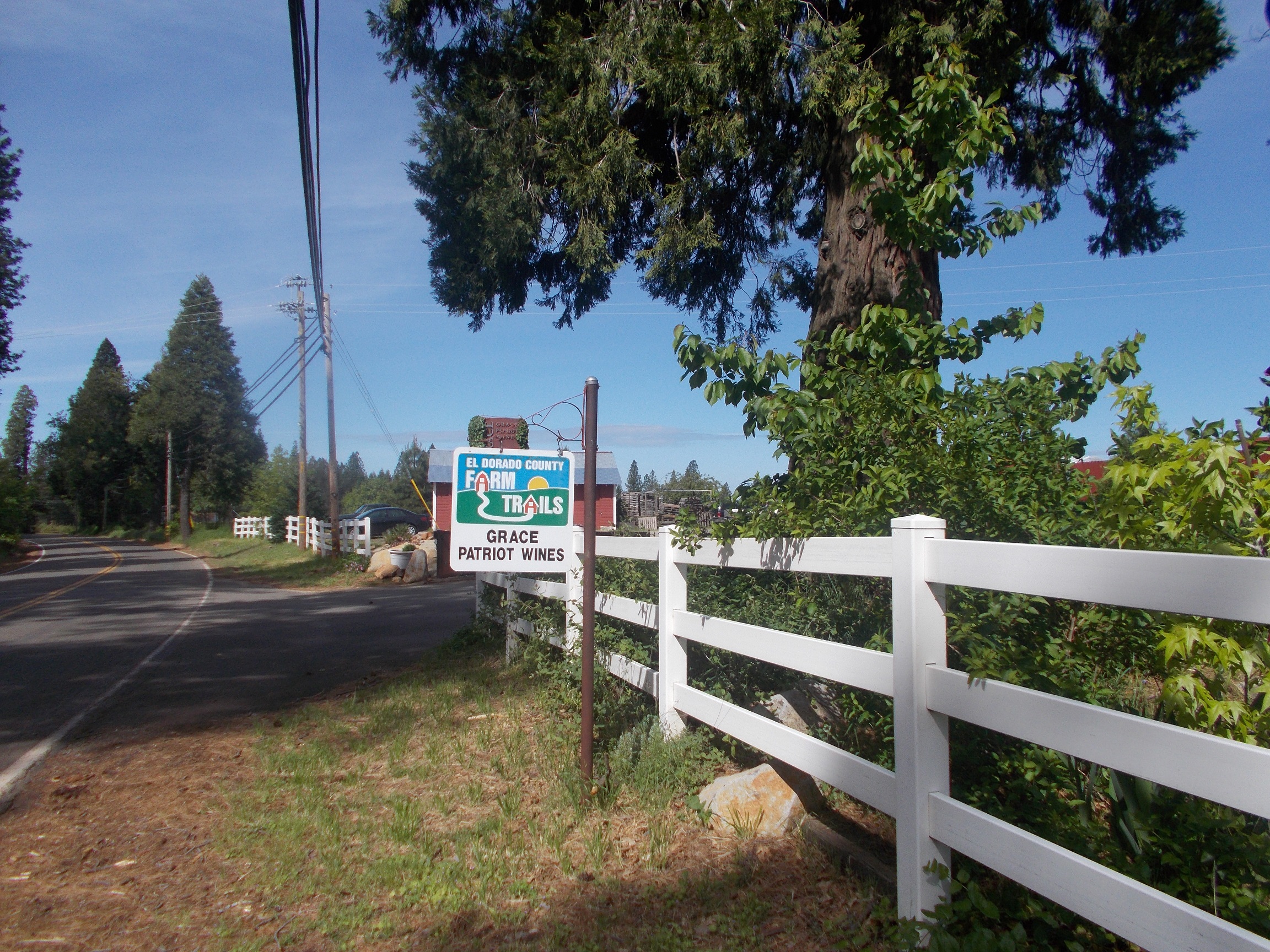 The vineyards are tight and provsmknigar offered, not for a runner. Strawberries were bought, however.
It is a green California who meets me. It was long since it rained this much, vattenmgasinen are well stocked. Large forest fires belong to normal, but this year's reports are few. I myself have fortunately been spared the rain, good because rain and cold is a bad combination. Today we went hands on, and tomorrow I start in tights.
Today's distance: 49 km
Weekly distance: 312 km
Keep on running!
Posted Björn at 08:03:59
---
 2016-04-24 - Day 5: Mountain stages have begun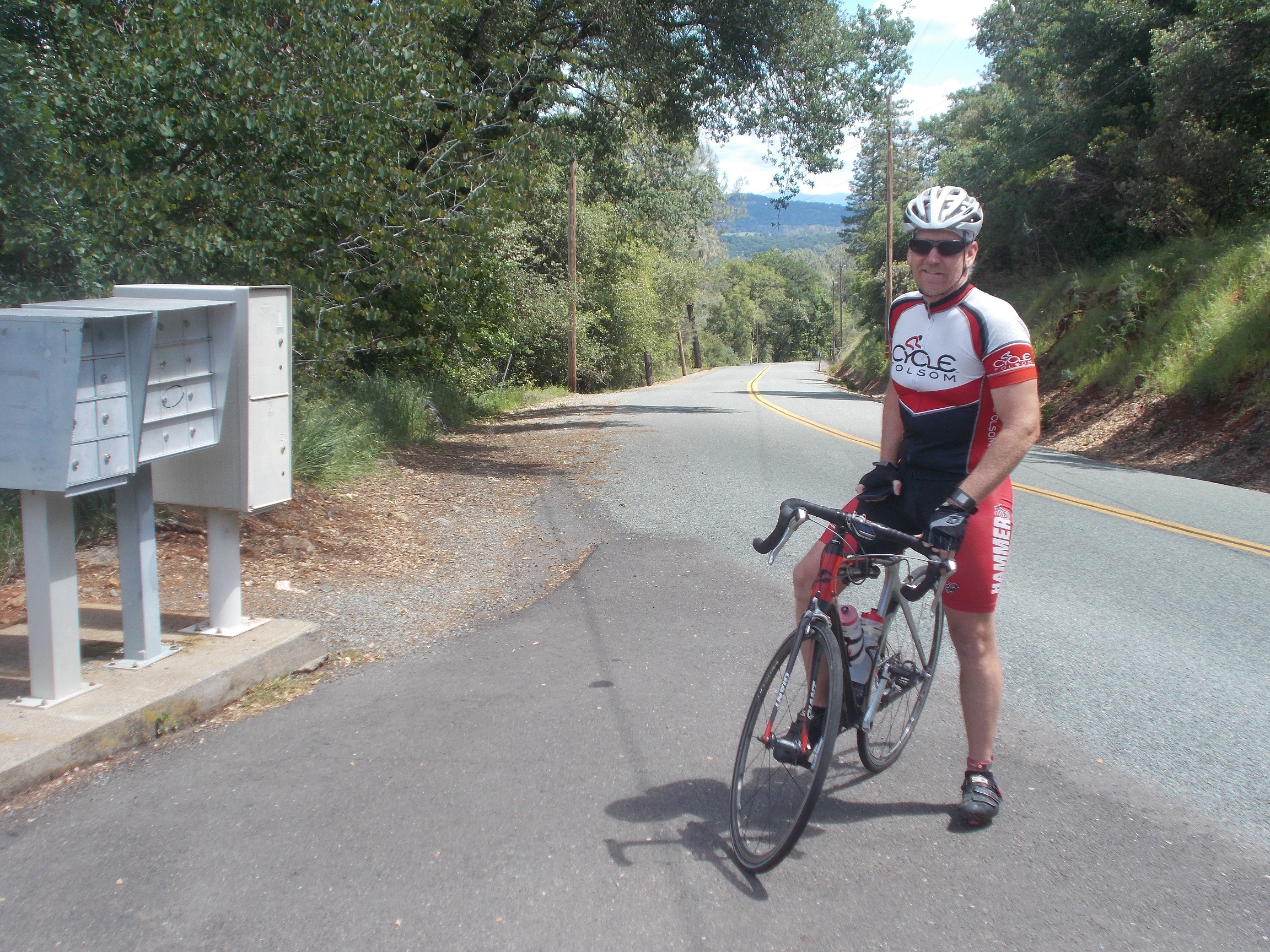 Curtis Taylor became my guide in the mountains.
In the distance I see the Sierra Nevada mountains with snowy peaks. It is only now that the tour begins. It goes up all the time, I krypkör the slopes and I feel really strong.
I have received unexpected help from a local cyclist, Curtis Taylorf from Folsom. He appeared out of nowhere and become my guide. He bikes next to me and lead me away from the major traffic routes and pilots me to the beautiful leafy lanes. The route now became admittedly few kilometers longer than planned but this was a lyckd detour.
By having a rider next to him goes the run easier. As long as Curtis was at hand, I ran actually in every single hill. When he left me after two hours of pleasant conversation took suddenly forces out and I started bringing up the go. But before we parted for good had he had time to road warriors going off to buy a lunch sandwich to me.
Tomorrow will probably be even tougher. And on Monday I reach the ski resorts of Lake Tahoe where skiing is still running.
Today's mountain stage 46 km
Keep on running!
Posted Björn at 10:16:46
Bookmark/Search this post with
Bookmark/Search this post