The Placerville Branch - design and build 3
[by tomebe] An employee timetable was a great help in determining which and in what order stations could appear on my layout. In the case of the Placerville Branch, a 1937 SP employee timetable gave me all the station information I needed.  As shown, there were 21 scheduled station stops from Brighton at MP 94.7 to Placerville MP 148.7. Further there are 16 "additional stations" listed. Quite a combination of stations and flag stops to think about!
Given my room's dimensions (11 x 27), the number of rail served industries I wanted to represent, and the era(s) that interested me, I chose to split the branch in the middle of the timetable, at Folsom, as the modeled starting point. Everything west from Folsom drops into staging. In the eastward direction, from Folsom and ending at Placerville, there are 37.6 prototype miles of branch line. Although not listed in the SP timetable, I included Camino as an extension of the Placerville branch. I did this because I wanted to represent the Michigan/California Lumber Co., a consistent revenue source for SP. Although the branch formally ended in upper Placerville, the far eastward end of the line included Camino and was switched by the CP&LT or the Camino, Placerville and Lake Tahoe Railroad. There were several reasons why SP gave up trackage rights to the CP&LT in upper Placerville. Most notably, deferred track maintenance making travel by the ubiquitous and ever present 2-8-0 risky. During high fruit season, when business at the Placerville Fruit Growers Association was humming, the consolidations were alive and well helping to switch and run PFE reefers blocks off the branch to Roseville. Otherwise the CP&LT used its standard gauge shays early and in 1953, a pair of GE 44 tonners for loads and MTY's to and from Placerville, as well as switch jobs in the upper end of town.  
I further eliminated stations where research indicated repetitive rail served industries. For instance, I eliminated White Rock since its only rail service was livestock and a passenger stop. I already had 3 rail served livestock pens along the route; El Dorado livestock Co., Diamond Springs Livestock Co., and Latrobe Livestock.  I added one passenger flag stop to the list after I read stories of #45 McKeen car flag stopped at Flonellis to pick up milk cans bound for Pino Grande and the men working the Mich/Cal.
The lower level of the Placerville Branch excluding staging, starts at Folsom, then Latrobe, Dugan, Shingle Springs ending at El Dorado, before crossing the dreaded duck under at the entrance door
The upper level, starting at the door and continuing eastbound, to Diamond Springs, Lower and Upper Placerville and terminating at Camino.
I mentioned in earlier posts that this double deck design does not include a helix to connect the two decks, rather a 2% grade runs ever upward between switching points to enable a 42" height at Folsom and the 64" end height at Placerville. Of course there are disadvantages to this design, mainly due to decrease space between the upper and lower decks; and in my case that would be on the peninsula. At Dugan there is 12" between the upper and lower deck, 11" at Shingle Springs and at its narrowest of 8" clearance at  El Dorado. A photo of that appears below;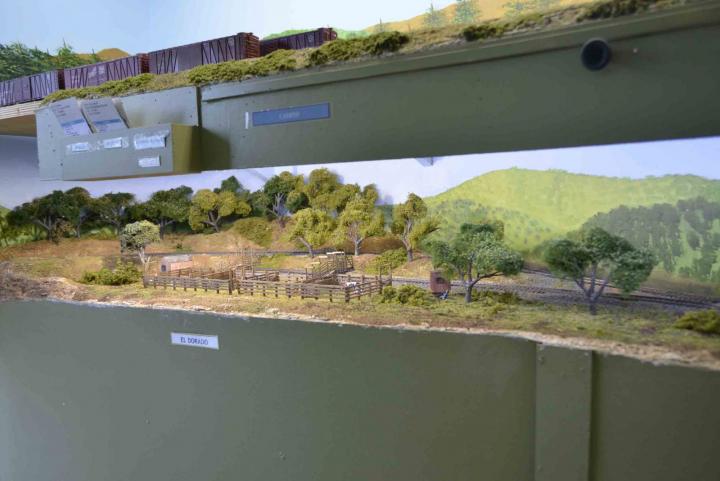 I think this is best done with narrow shelving, so a diorama effect can occur with careful modeling and scene setting. I recall reading an article in MRH, whereby an author mentioned being intimidated or unwilling to set and hold varying grades on their layout. My design required a constant balance between the required grade, level switching points and realistic heights. Obviously 64" is over the eye level and reach of some, but with the help of a couple of store bought, and stable step stools that problem although not eliminated is all part of the compromise.
See more HERE
Bookmark/Search this post with
Bookmark/Search this post